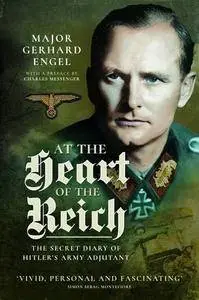 At the Heart of the Reich: The Secret Diary of Hitler's Army Adjutant by Major Gerhard Engel
English | 28 Feb. 2017 | ISBN: 1473885698, 1853676551 | 208 Pages | EPUB/PDF (conv) | 2.56 MB
'Vivid, personal and fascinating.' Simon Sebag Montefiore. Gerhard Engel was Hitler's Army Adjutant from March 1938 to March 1943. During this time he kept a diary, and after the war he added material to shed further light on key events and decisions.He discloses the decision-making process behind many of the key operations and addresses the intrigues within Hitler's inner circle, recounting the Fuhrer's conversations with Halder, Guderian and Brauchitsch. Engel also details Hitler's views on German Jews, and in the final part of the diary he covers the war against Russia. Increasingly, towards the end, he depicts Hitler as a vacillating and contrary man. At the Heart of the Reich offers a unique and intimate view of Hitler and his closest aides. It reveals the mechanisms and personalities of the centre of the Third Reich, and provides a fresh perspective of the Nazi leadership.