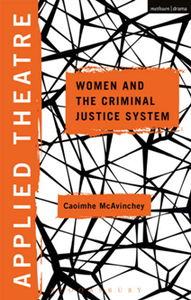 Applied Theatre : Women and the Criminal Justice System
by Caoimhe McAvinchey
English | 2020 | ISBN: 1474262554 | 265 Pages | PDF | 2.07 MB
Applied Theatre: Women and the Criminal Justice System offers unprecedented access to international theatre and performance practice in carceral contexts and the material and political conditions that shape this work. Each of the twelve essays and interviews by international practitioners and scholars reveal a panoply of practice: from cross-arts projects shaped by autobiographical narratives through to fantasy-informed cabaret; from radio plays to film; from popular participatory performance to work staged in commercial theatres. Extracts of performance texts, developed with Clean Break theatre company, are interwoven through the collection.
Television and film images of women in prison are repeatedly painted from a limited palette of stereotypes – 'bad girls', 'monsters', 'babes behind bars'. To attend to theatre with and about women with experience of the criminal justice system is to attend to intersectional injustices that shape women's criminalization and the personal and political implications of this. The theatre and performance practices in this collection disrupt, expand and reframe representational vocabularies of criminalized women for audiences within and beyond prison walls. They expose the role of incarceration as a mechanism of state punishment, the impact of neoliberalism on ideologies of punishment and the inequalities and violence that shape the lives of many incarcerated women. In a context where criminalized women are often dismissed as unreliable or untrustworthy, the collection engages with theatre practices which facilitate an economy of credibility, where women with experience of the criminal justice system are represented as expert witnesses.
If you want to support my blog, then you can buy a premium account through any of my files (i.e. on the download page of my book). In this case, I get a percent of sale and can continue to delight you with new books!