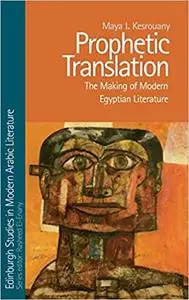 Maya I. Kesrouany, "Prophetic Translation: The Making of Modern Egyptian Literature "
English | ISBN: 1474407404 | 2019 | 264 pages | PDF | 1064 KB
In this novel and pioneering study Maya I. Kesrouany explores the move from Qur'anic to secular approaches to literature in early 20th-century Egyptian literary translations, asking what we can learn from that period and the promise that translation held for the Egyptian writers of fiction at that time. Through their early adaptations, these writers crafted a prophetic, secular vocation for the narrator that gave access to a world of linguistic creation and interpretation unavailable to the common reader or the religious cleric. This book looks at the writers' claim to secular prophecy as it manifests itself in the adapted narrative voice of their translations to suggest an original sense of literary resistance to colonial oppression and occupation in the early Arabic novel.