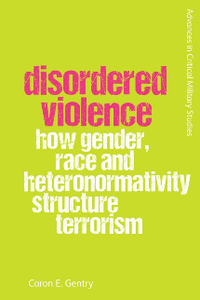 Disordered Violence :
How Gender, Race and Heteronormativity Structure Terrorism
by Caron E. Gentry
English | 2020 | ISBN: 1474424805 | 216 Pages | ePUB | 0.31 MB
Disordered Violence looks at how gender, race, and heteronormative expectations of public life shape Western understandings of terrorism as irrational, immoral and illegitimate. Caron Gentry examines the profiles of 8 well-known terrorist actors, including Andreas Baader, Bernardine Dohrn, Leila Khaled, Dhanu, Anders Breivik, Nidal Hasan and Aafia Siddiqui. Gentry looks for gendered, racial, and sexualised assumptions in how their stories are told.
Additionally, she interrogates how the current counterterrorism focus upon radicalisation is another way of constructing terrorists outside of the Western ideal. Finally, the book argues that mainstream Terrorism Studies must contend with the growing misogynist and racialised violence against women.
If you want to support my blog, then you can buy a premium account through any of my files (i.e. on the download page of my book). In this case, I get a percent of sale and can continue to delight you with new books!