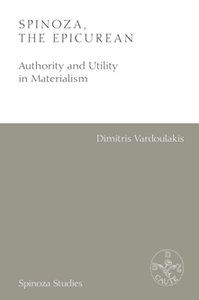 Spinoza, the Epicurean : Authority and Utility in Materialism
by Dimitris Vardoulakis
English | 2020 | ISBN: 147447604X | 358 Pages | PDF | 21.4 MB
Through a radical new reading of the 'Theological Political Treatise', Dimitris Vardoulakis argues that the major source of Spinoza's materialism is the Epicurean tradition that re-emerges in modernity when manuscripts by Epicurus and Lucretius are rediscovered. This reconsideration of Spinoza's political project, set within a historical context, lays the ground for an alternative genealogy of materialism. Central to this new reading of Spinoza are the theory of practical judgment (understood as the calculation of utility) and its implications for a theory of democracy that is resolutely positioned against authority.
"Never have I seen the dialectical principle of the unity of opposites carried on to such extremities in the reading of Spinoza's political and religious philosophy, with so much imagination, precision, and illuminating results. A once in a generation breakthrough, whose importance goes well beyond the history of past ideas, to opening roads for judgement in the present." - Etienne Balibar, author of Spinoza, the Transindividual
If you want to support my blog, then you can buy a premium account through any of my files (i.e. on the download page of my book). In this case, I get a percent of sale and can continue to delight you with new books!