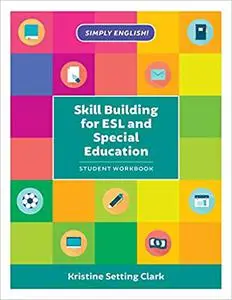 Kristine Setting Clark, "Skill Building for ESL and Special Education: Student Workbook "
English | ISBN: 1475826303 | 2016 | 100 pages | EPUB | 1404 KB
Simply English is an ESL curriculum adaptable for elementary though adult learners. Its goal is to help the limited and/or non-English speaker achieve fluency in English words that are essential for everyday life. Simply English can also be incorporated into Special Education programs for students who need help with spelling, definitions of words, and correct application of grammatical structures. The forty-four units are organized, presented and applied to everyday, real-life situations. They include whole class and small group activities. Each unit contains the following material: Competency Goals, Vocabulary: Listen, Read, Say, and Structures and Skill Building. The Student Workbook to be used along with the Student Textbook will give you practice with spelling, word definitions and correct application of grammatical structures.
Read more