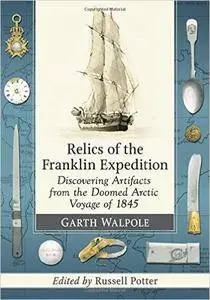 Garth Walpole, Russell Potter, "Relics of the Franklin Expedition: Discovering Artifacts from the Doomed Arctic Voyage of 1845"
ISBN: 1476667187 | 2017 | EPUB | 240 pages | 5 MB
Sir John Franklin's Arctic expedition departed England in 1845 with two Royal Navy bomb vessels, 129 men and three years' worth of provisions. None were seen again until nearly a decade later, when their bleached bones, broken instruments, books, papers and personal effects began to be recovered on Canada's King William Island. These relics have since had a life of their own–photographed, analyzed, cataloged and displayed in glass cases in London.
This book gives a definitive history of their preservation and exhibition from the Victorian era to the present, richly illustrated with period engravings and photographs, many never before published. Appendices provide the first comprehensive accounting of all expedition relics recovered prior to the 2014 discovery of Franklin's ship HMS Erebus.