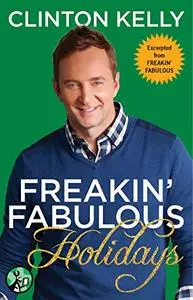 Clinton Kelly, "Freakin' Fabulous Holidays"
English | 2013 | ISBN: 1476767432 | 136 pages | AZW3 | 36.33 MB
So ho-ho-hot, Freakin' Fabulous Holidays is only available online! Clinton Kelly shares his favorite festive tips and delicious recipes, selected from his hit book Freakin' Fabulous. This is the ultimate guide to throwing million-dollar holiday parties, for only 99 cents!
Deck the halls with sass and class! America's favorite style and etiquette expert has curated the best of his invaluable entertaining advice and mouthwatering recipes for hors d'oeuvres, entrees, and wintertime cocktails to help you spice up your next holiday party. Whether you're hosting or just showing up for the fun, this humorous and handy little e-guide is guaranteed to make you more popular than the mistletoe.