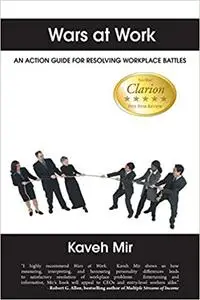 Kaveh Mir, "Wars at Work: An Action Guide for Resolving Workplace Battles"
English | 2012 | ISBN: 1477234152 | 222 pages | EPUB | 1.4 MB
One Friday afternoon Kaveh Mir nearly had a breakdown in his office - the aftermath of more than five years spent fighting or mediating wars at work. But instead of succumbing to his battle scars, Mir did something about them. Wars at Work is the result. This book is your guide to learning how personality types contribute to work wars, and how understanding personality differences can lead to resolution and peace. While other books have covered how to use a single personality assessment to resolve conflicts, Wars at Work is the first to show how combining multiple measures creates a richer, more powerful toolkit for solving the whole gamut of workplace problems. In Wars at Work, you'll learn how psychometric measures can help solve: The battle of leadership The battle of career The battle of communication The battle of conflict The battle of change This book offers a new twist on resolving workplace conflict. Whether you're an employee, manager, or CEO, you're likely to recognise at least one character or situation that hits home with you. Mir's insightful book offers a fresh perspective towards resolving your own wars at work.