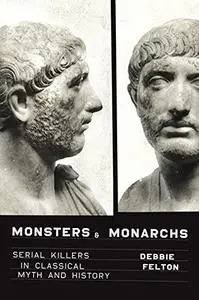 Monsters and Monarchs
by Felton, Debbie;
English | 2021 | ISBN: 1477303790 | 235 pages | True PDF | 23.64 MB
Jack the Ripper. Jeffrey Dahmer. John Wayne Gacy. Locusta of Gaul. If that last name doesn't seem to fit with the others, it's likely because our modern society largely believes that serial killers are a recent phenomenon. Not so, argues Debbie Felton―in fact, there's ample evidence to show that serial killers stalked the ancient world just as they do the modern one. Felton brings this evidence to light in Monsters and Monarchs, and in doing so, forces us to rethink assumptions about serial killers arising from the decadence of modern society. Exploring a trove of stories from classical antiquity, she uncovers mythological monsters and human criminals that fit many serial killer profiles: the highway killers confronted by the Greek hero Theseus, such as Procrustes, who torture and mutilate their victims; the Sphinx, or "strangler," from the story of Oedipus; child-killing demons and witches that could explain abnormal infant deaths; and historical figures such as Locusta of Gaul, the most notorious poisoner in the early Roman Empire. Redefining our understanding of serial killers and their origins, Monsters and Monarchs changes how we view both ancient Greek and Roman society and the modern-day killers whose stories still captivate the public today.