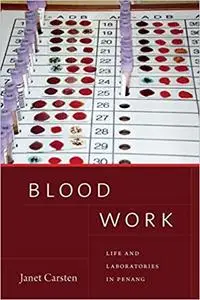 Janet Carsten, "Blood Work: Life and Laboratories in Penang "
English | ISBN: 1478004207 | 2019 | 256 pages | PDF | 11 MB
What is blood? How can we account for its enormous range of meanings and its extraordinary symbolic power? In Blood Work Janet Carsten traces the multiple meanings of blood as it moves from donors to labs, hospitals, and patients in Penang, Malaysia. She tells the stories of blood donors, their varied motivations, and the paperwork, payment, and other bureaucratic processes involved in blood donation, tracking the interpersonal relations between lab staff and revealing how their work with blood reflects the social, cultural, and political dynamics of modern Malaysia. Carsten follows hospital workers into factories and community halls on blood drives and brings readers into the operating theater as a machine circulates a bypass patient's blood. Throughout, she foregrounds blood's symbolic power, uncovering the processes that make the hospital, the blood bank, the lab, and science itself work. In this way, blood becomes a privileged lens for understanding the entanglements of modern life.
Read more