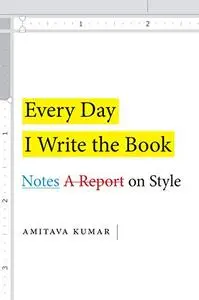 Every Day I Write the Book: Notes on Style by Amitava Kumar
2020 | ISBN: 1478005823, 1478006277 | English | 256 pages | PDF | 4 MB
Amitava Kumar's Every Day I Write the Book is for academic writers what Annie Dillard's The Writing Life and Stephen King's On Writing are for creative writers. Alongside Kumar's interviews with an array of scholars whose distinct writing offers inspiring examples for students and academics alike, the book's pages are full of practical advice about everything from how to write criticism to making use of a kitchen timer. Communication, engagement, honesty: these are the aims and sources of good writing. Storytelling, attention to organization, solid work habits: these are its tools. Kumar's own voice is present in his essays about the writing process and in his perceptive and witty observations on the academic world. A writing manual as well as a manifesto, Every Day I Write the Book will interest and guide aspiring writers everywhere.