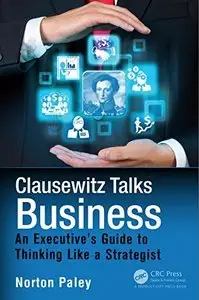 Norton Paley, "Clausewitz Talks Business: An Executive's Guide to Thinking Like a Strategist"
English | ISBN: 148222027X | 2014 | 264 pages | PDF | 2 MB
Clausewitz Talks Business: An Executive's Guide to Thinking Like a Strategist distills the wisdom of Carl von Clausewitz's monumental 1832 classic On War—considered by many eminent scholars as the most distinguished Western work on war ever written. This book transposes Clausewitz's most enduring concepts on leadership and strategy to help today's executives and managers think like strategists.
Tapping into the universal lessons of strategy, the book uncovers potential solutions to some of the most obstinate competitive problems. It supplies readers with an understanding that integrates historical references with modern business practice. Commentary is inserted at key points in Clausewitz's original text to interpret and transpose his core ideas and to demonstrate how they apply in today's increasingly competitive environment.
Maintaining a focus on modern leadership and strategic planning, the book explains how the human element influences the outcome of a competitive confrontation. It provides tips on the physical and psychological dimensions of conflict, which include Clausewitz's discussions about dealing with the inevitable forces of friction, chance, and luck that operate in the "fog of war."
In this book you will find timeless principles that will help you think more strategically. In particular, Clausewitz's lessons can be indispensable in the everyday management of your people and resources, especially when applied in competitive environments.
By focusing on Clausewitz's writings on human behavior, leadership, and organizational culture, you will gain a better understanding of how you currently face up to competitive struggles, and in turn, will enhance your ability to apply appropriate strategies to outmaneuver the competitive obstacles on the horizon.