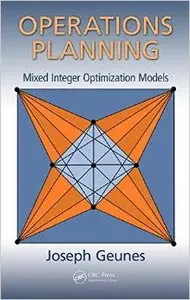 Operations Planning: Mixed Integer Optimization Models (Operations Research Series) by Joseph Geunes
English | 2014 | ISBN: 1482239906 | 218 pages | PDF | 2,8 MB
A reference for those working at the interface of operations planning and optimization modeling, Operations Planning: Mixed Integer Optimization Models blends essential theory and powerful approaches to practical operations planning problems.
It presents a set of classical optimization models with widespread application in operations planning. The discussion of each of these classical models begins with the motivation for studying the problem as well as examples of the problem's application in operations planning contexts. The book explores special structural results and properties of optimal solutions that have led to effective algorithmic solution approaches for each problem class.
Each of the models and solution methods presented is the result of high-impact research that has been published in the scholarly literature, with appropriate references cited throughout the book. The author highlights the close relationships among the models, examining those situations in which a particular model results as a special case of other related models or how one model generalizes another. Understanding these relationships allows you to more easily characterize new models being developed through their relationships to classical models.
The models and methods presented in the book have widespread application in operations planning. It enables you to recognize the structural similarities between models and to recognize these structural elements within other contexts. It also gives you an understanding of various critical operations research techniques and classical operations planning models, without the need to consult numerous sources.
My nickname -
interes