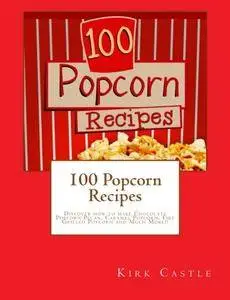 100 Popcorn Recipes: Discover how to make Chocolate Popcorn Pecan, Caramel Popcorn, Fire Grilled Popcorn and Much More by Kirk Castle
English | March 26, 2013 | ISBN: 1483942252 | 76 Pages | PDF, EPUB | 0.6 MB
You'll be very surprised what you can do with a few cups of popcorn! Popcorn recipes contains the most unique and tasteful temptations which can be used for nearly every family occasion, from Caramel Nut Popcorn bars to the more savory Salty Popcorn Granolas. Your imagination will run wild with the vast collection of great recipes contained in this book. Some of my personal favorites include Chocolate Popcorn Drizzle, Parmesan Popcorn, Fire Grilled Popcorn and Chocolate-Coated Popcorn Brittle. Believe me they are as great as they sound
Sample Recipe:
Popcorn Almond Joy
1-1/2 cups marshmallow creme
2 tablespoons light corn syrup
1 teaspoon almond extract
8 cups popped popcorn
2 cups shredded coconut
1 cup slivered almonds
1-1/2 cups semisweet chocolate chips
In a small saucepan, melt together the marshmallow creme and corn syrup over medium heat. Remove from heat and stir in almond extract. Pour marshmallow mixture over popcorn in an extra-large bowl and stir to coat. Add coconut and almonds; stir again. Spread mixture on a large baking sheet. Set aside to cool.
In a small microwave-safe bowl, heat chocolate chips in microwave for 1 minute at 50% power; stir. Continue to cook at 50% power, stirring at 30-second intervals, until smooth. Drizzle over popcorn. Refrigerate popcorn about 30 minutes to set. Store in an airtight container. Makes 6 servings.