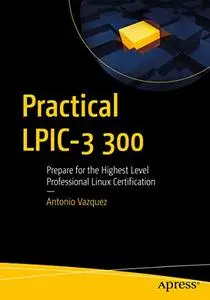 Practical LPIC-3 300:
Prepare for the Highest Level Professional Linux Certification
by Antonio Vazquez
English | 2019 | ISBN: 1484244729 | 730 Pages | PDF | 16 MB
Gain the essential skills and hands-on expertise required to pass the LPIC-3 300 certification exam. This book provides the insight for you to confidently install, manage and troubleshoot OpenLDAP, Samba, and FreeIPA. Helping you to get started from scratch, this guide is divided into three comprehensive sections covering everything you'll need to prepare for the exam.