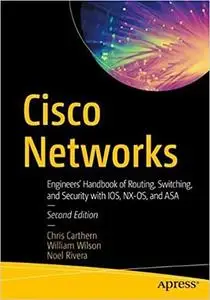 Cisco Networks: Engineers' Handbook of Routing, Switching, and Security with IOS, NX-OS, and ASA
by Chris Carthern
English | 2021 | ISBN: 1484266714 | 1104 Pages | PDF EPUB | 75 MB
For beginning and experienced network engineers tasked with building LAN, WAN, and data center connections, this book lays out clear directions for installing, configuring, and troubleshooting networks with Cisco devices. Cisco Networks, 2nd Edition is a practical guide and desk reference for Cisco engineers. This new edition will discuss tools that can be used to automate and troubleshoot networks. A new chapter on quality of service has been added to teach managing network resources by prioritizing specific types of network traffic. The new edition has an updated wireless section which focuses on an updated controller and integration with Cisco Identity Services Engine (ISE) and Cisco Prime Infrastructure.