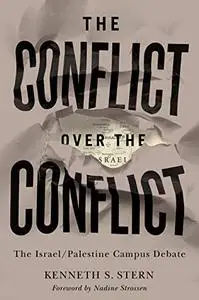 The Conflict over the Conflict: The Israel/Palestine Campus Debate by Kenneth S. Stern
2020 | ISBN: 1487507364 | English | 296 pages | PDF | 3 MB
The Conflict over the Conflict chronicles one of the most divisive and toxic issues on today's college and university campuses: Israel/Palestine.
Some pro-Palestinian students call supporters of Israel's right to exist racist, and disrupt their events. Some pro-Israel students label pro-Palestinian students terrorists, and the Jews among them traitors. Lawsuits are filed. Legislation is proposed. Faculty members are blacklisted and receive death threats. Academic freedom is compromised and the entire academic enterprise is threatened. How did we get here and what can be done?
In this passionate book, Kenneth S. Stern examines attempts from each side to censor the other at a time when some say students, rather than being challenged to wrestle with difficult issues and ideas, are being quarantined from them. He uniquely frames the examination: our ability to think rationally is inhibited when our identity is fiercely connected to an issue of perceived social justice or injustice, and our proclivity to see in-groups and out-groups – us versus them – is obvious. According to Stern, the campus is the best place to mine this conflict and our intense views about it to help future generations do what they are supposed to do: think. The Conflict over the Conflict shows how this is possible.