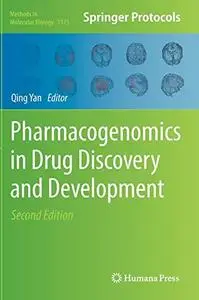 Pharmacogenomics in Drug Discovery and Development (Methods in Molecular Biology) by Qing Yan
English | 23 Aug. 2014 | ISBN: 149390955X | 732 Pages | PDF | 8.05 MB
Covering topics from individual molecules to systemic diseases, from basic concepts to advanced technologies, Pharmacogenomics in Drug Discovery and Development , Second Edition provides a practical, state-of-the-art and integrative view of the application of pharmacogenomics in drug discovery and development. A wide range of theoretical and experimental approaches are introduced to meet the problem-solving objectives for understanding the complexity in health and diseases, from laboratory tests to computational analysis. The development of pharmacogenomics represents the evolution of biomedicine from treating the disease itself to treating the malfunction of an individual person, the "root" of diseases. With the change of focus from disease-centered to human-centric medicine, pharmacogenomics brings hope for the transformation from simple disease treatment to accurate prediction and effective prevention. Written in the successful Methods in Molecular Biology series format, chapters include introductions to their respective topics, lists of the necessary materials and reagents, step-by-step, readily reproducible protocols, and notes on troubleshooting and avoiding known pitfalls.