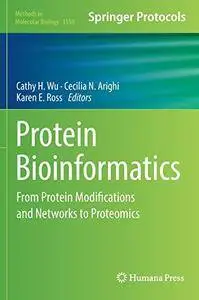 Protein Bioinformatics: From Protein Modifications and Networks to Proteomics (Methods in Molecular Biology) by Cathy H. Wu
English | 20 Feb. 2017 | ISBN: 1493967819 | 488 Pages | PDF | 22.55 MB
This volume introduces bioinformatics research methods for proteins, with special focus on protein post-translational modifications (PTMs) and networks. This book is organized into four parts and covers the basic framework and major resources for analysis of protein sequence, structure, and function; approaches and resources for analysis of protein PTMs, protein-protein interactions (PPIs) and protein networks, including tools for PPI prediction and approaches for the construction of PPI and PTM networks; and bioinformatics approaches in proteomics, including computational methods for mass spectrometry-based proteomics and integrative analysis for alternative splice isoforms, for functional discovery. Written in the highly successful Methods in Molecular Biology series format, chapters include introductions to their respective topics, lists of the necessary materials and reagents, step-by-step, readily reproducible laboratory or computational protocols, and tips on troubleshooting and avoiding known pitfalls.
Cutting-edge and thorough, Protein Bioinformatics: From Protein Modifications and Networks to Proteomics is a valuable resource for readers who wish to learn about state-of-the-art bioinformatics databases and tools, novel computational methods, and future trends in protein and proteomic data analysis in systems biology. This book is useful to researchers who work in the biotechnology and pharmaceutical industries, and in various academic departments, such as biological and medical sciences and computer sciences and engineering.