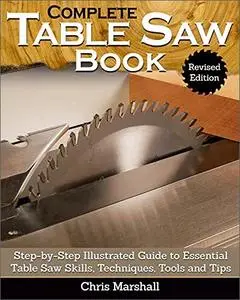 Complete Table Saw Book, Revised Edition: Step-by-Step Illustrated Guide to Essential Table Saw Skills, Techniques, Tools, and Tips by Chris Marshall
English | July 5, 2021 | ISBN: 1497102022, 1497101174 | EPUB | 280 pages | 131 MB
The ultimate guide to your table saw!
Over 600 photographs and illustrations to help you maintain, improve, and master your table saw
9 custom projects to practice and apply your table saw skills, 4 of which are new in this Revised Edition
Clear explanations for a variety of table saw techniques, choosing and preparing lumber, selecting the proper blades, joinery techniques, making shaping cuts, and more
Step-by-step instructions, plans, tools and materials lists, project time estimates, and detailed exploded diagrams
Updated information on new SawStop technology, with a look at the Jobsite Saw Pro
Whether you've just unpacked your first table saw or have been using one for years, this essential resource provides all the most up-to-date information you need to know to set up, tune, and maintain your saw—while also expanding your skill set!
Organized into three parts—"Table Saws," "Woodworking with Sheet Goods," and "Projects"—this handy manual starts with the basics, detailing essential table saw knowledge and critical safety information. You'll learn tons of table saw techniques, from tuning up, preparing lumber, and selecting and truing saw blades to mastering cuts both basic and advanced, joinery techniques, making shaping cuts, how to work with various types of wood, plywood, particleboard, melamine board, and other miscellaneous sheet goods, plus information on sawing accessories, installing a router lift, DIY workshop essentials, and so much more!
Packed with crucial and current information, step-by-step instructions, and detailed diagrams, this comprehensive guide also offers nine custom step-by-step table saw projects that will put all your newly acquired techniques and skills to good use. The projects include a sheet goods cart, benchtop table saw mobile base, outfeed cart, base cabinet, wall-hung cabinet, country cupboard, hallway bookcase, walnut writing desk, and walnut desktop console.
These 280 information-packed pages will equip you with all the skills you need to successfully and safely use the ultimate tool in your workshop—your table saw! Also included in this revised edition is exclusive information on SawStop technology, a safety feature of interest to all woodworkers.
Whether you're a beginner or an experienced table saw user who wants to get the most out of this versatile machine, Complete Table Saw Book, Revised Edition is the must-have manual for your table saw!