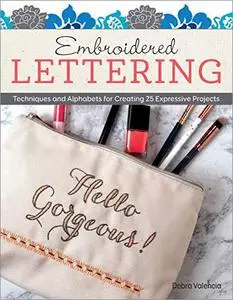 Embroidered Lettering: Techniques and Alphabets for Creating 25 Expressive Projects by Debra Valencia
English | March 11, 2019 | ISBN: 1497204151 | EPUB | 176 pages | 76.7 MB
Express yourself with embroidery!
25 embroidery lettering projects for coasters, tote bags, monograms, an eyeglasses case, throw pillows, luggage tags, and more
24 useful stitches with step-by-step instructions
7 alphabet templates to use when stitching your own phrases
Expert advice on tools and materials
Inside Embroidered Lettering you'll find 25 fun and unique embroidery lettering projects that feature heartfelt sentiments and witty statements.
Innovative designer and author Debra Valencia combines some of her favorite embroidery designs with creative lettering in this inventive book. She provides step-by-step instructions for 24 useful stitches, useful advice on tools and materials, and 7 alphabet templates to use in customizing your own designs.
Learn how to use the traditional craft of embroidery to add a modern message to coasters, tote bags, throw pillows, tea towels, monograms, luggage tags, an eyeglass case and more!