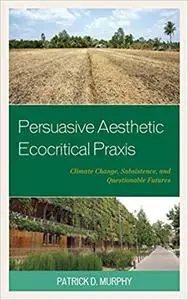 Patrick D. Murphy, "Persuasive Aesthetic Ecocritical Praxis: Climate Change, Subsistence, and Questionable Futures "
English | ISBN: 1498514839 | 2015 | 214 pages | PDF | 1391 KB
Persuasive Aesthetic Ecocritical Praxis continues Patrick D. Murphy's focus on transversal ecocritical praxis by considering literature and cinema in terms of the persuasive force of aesthetic activity and whether or not artistic production and its criticism can be considered forms of activism. Murphy argues that literature and other forms of aesthetic production hold out the promise of being able to move some individuals deeply through both affective and intellectual engagement in ways that facilitate ideological reflection. To analyze aesthetic production ecocritically requires a transversal orientation in order to work continuously at accommodating a vast array of often seemingly disparate perspectives, disciplines, and contextual information, as well as the ever changing thematic, plot, setting, and contextual elements of the aesthetic works under consideration and the responses of changing audiences through time and across cultures. Murphy demonstrates this approach through presenting theories of transversality and applying them with attention to issues of propaganda, agitation, and persuasion, both in terms of artistic production and the criticism of such production. He also brings an ecofeminist orientation to the fore with particular attention to the gendered economic aspects of environmental issues in an age of land grabs and plantation economies. Along the way he treats a wide range of literary works, films and miniseries. In American literature he discusses realist and science fiction works, from Susan Fenimore Cooper's Rural Hours to Paolo Bacigalupi's The Windup Girl, Barbara Kingsolver's Flight Behavior to Kim Stanley Robinson's 2312, and Ana Castillo's So Far from God to Leslie Marmon Silko's Gardens in the Dunes. In international literature, he analyzes Mo Yan's The Garlic Ballads, Jiang Rong's Wolft Totem, Michiko Ishimure's The Lake of Heaven, Miyuki Miyabe's All She Was Worth, and other novels. The book concludes with a reading of Ernest Callenbach's Ecotopia and Ecotopia Emerging, an Afterword recommending further directions for transversal ecocritical research an and interview that discusses Murphy's previous book, Transversal Ecocritical Praxis, and provides some personal background on the author.
Read more