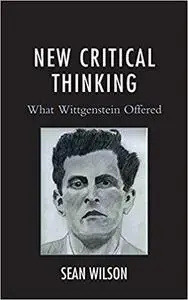 Sean Wilson, "New Critical Thinking: What Wittgenstein Offered"
English | ISBN: 1498583598 | 2018 | 198 pages | PDF | 2 MB
Ludwig Wittgenstein changed everything. To understand how, we need to understand what he did to the subject of critical reasoning.
Wittgenstein didn't leave us "philosophy"; he left a pathway for a more perspicuous intellect. This was caused by a psychological condition that made him meticulous and hypersensitive. He could abnormally perceive three natural phenomena: (a) the social traits implicated in word use; (b) the task-functions signified in communication; and © the pictures that flash before the mind's eye. With this unique acuity, he showed us how post-analytic thinking was to occur.
And this discovery changes everything. It revolutionizes how we must argue with one another and what we believe is "true." Instead of focusing primarily upon premises or facts, we must point people to how their intellect behaves during a speech act—something called "therapy." And this has radical implications for analysis, conceptual investigation, value judgments, political ideology, ethics and even religion.
This book is both an explanation of, and a blueprint for, the new critical thinking. Written for both a lay and special audience, and for all fields of study, it shows what Wittgenstein invented and how it affects us all.