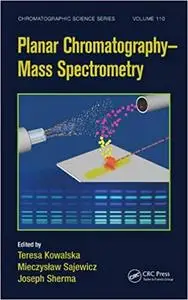 Teresa Kowalska, "Planar Chromatography - Mass Spectrometry "
English | ISBN: 149870588X | 2015 | 406 pages | PDF | 38 MB
Planar Chromatography–Mass Spectrometry focuses on a relatively new approach to chemical analysis in general, and to separation science in particular. It is the first book to systemically cover the theoretical background, techniques, instrumentation, and practical applications of planar chromatography–mass spectrometry as a hyphenated tool of analytical chemistry. It also examines the high and as-yet unexploited potential of planar chromatography–mass spectrometry for analytical use in scientific investigations.
This book overviews the combination of planar chromatography, a relatively simple and cost-effective separation step for determining complex mixtures of compounds, with mass spectrometry, an efficient, highly instrumental, and relatively expensive technique that enables rapid identification of separated chemical species. It covers electrophoretic–mass spectrometry methods and applications, which are considered planar chromatographic techniques and are increasingly being exploited in proteomic and molecular biology studies as well as for medical diagnostic purposes. It also provides a selection of applications, such as drug control and forensic and food analysis, including more difficult substances such as carbohydrates and lipids.
The book advocates growth in using planar chromatography–mass spectrometry in laboratories that have appropriate equipment but have not yet employed the techniques in combination. It also describes the use of a relatively inexpensive commercial system that can be adopted by laboratories currently working without the coupled methodology. Aiming to improve power and efficiency when other analytical methods are inadequate, Planar Chromatography–Mass Spectrometry encourages separation science practitioners in academia and industry to combine the two methods for enhanced results.