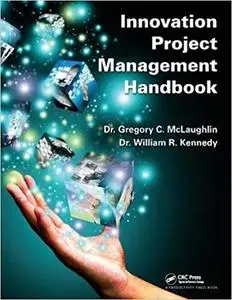 Gregory C. McLaughlin, "Innovation Project Management Handbook"
2016 | pages: 264 | ISBN: 1498725716 | PDF | 22,2 mb
Innovation Project Management Handbook provides organizational leaders and decision-makers with a cadre of agile, disciplined, and transformational tools and processes for improving innovation opportunity outcomes and achieving sustained innovation project success. The authors introduce new tools and processes developed over their decades of work in the field of innovation that assist organizations in aligning innovation opportunity decisions with their core competencies, business objectives, and strategic vision. In concert with accepted tools already in use today, you are provided a detailed description of each tool and process in an "easy to follow" format with actual application scenarios and exercises.
The handbook begins with an innovation primer and introductory discussion on how the authors evolved the original ENOVALE™ model into the N2OVATE™ methodology. An overview of how to select a project for each type of innovation opportunity is provided, followed by an in-depth, step-by-step discussion on how to implement each innovation process type.
Based on innovative outcomes, the authors identify seven unique processes, each having its own unique circumstances. This allows you to tailor the processes and associated tool-sets to the needs of your organization and situation. After selecting one of the seven processes that fit your desired innovation outcome, you simply follow the detailed process maps provided in the applicable chapter to achieve a desired outcome. In doing so, you will learn how to use, adapt, and improve the tools and techniques offered in the handbook to achieve a positive innovation outcome and add value to your organization, customers, stakeholders, and shareholders.
My Link