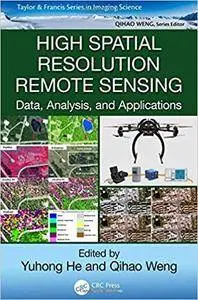 Yuhong He and Qihao Weng, "High Spatial Resolution Remote Sensing: Data, Analysis, and Applications"
English | ISBN: 1498767680 | 2018 | 405 pages | PDF | 35 MB
High spatial resolution data including those from satellite, manned aircraft, and unmanned aerial vehicle (UAV) platforms provide a novel data source for addressing environmental questions with an unprecedented level of detail. To effectively utilize information contained in high spatial resolution imagery, some key questions must be addressed, including: (1) what are the challenges of using new sensors and new platforms? (2) what are the cutting-edge methods for fine-level information extraction from high spatial resolution images? and (3) how can high spatial resolution data improve the quantification and characterization of physical-environmental or human patterns and processes? The chapters in this book provide a snapshot of cutting-edge high spatial resolution remote sensing image collection, preprocessing, processing, and applications. This book intents to provide a useful benchmark for the high spatial resolution remote sensing community and inspire more studies that would address important scientific and technical challenges in use of high spatial remote sensing.