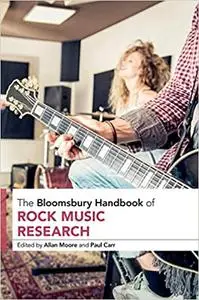 Allan Moore, "The Bloomsbury Handbook of Rock Music Research "
English | ISBN: 1501330454 | 2020 | 656 pages | PDF | 5 MB
The Bloomsbury Handbook of Rock Music Research is the first comprehensive academic survey of the field of rock music as it stands today. More than 50 years into its life and we still ask - what is rock music, why is it studied, and how does it work, both as music and as cultural activity? This volume draws together 37 of the leading academics working on rock to provide answers to these questions and many more. The text is divided into four major sections: practice of rock (analysis, performance, and recording); theories; business of rock; and social and culture issues. Each chapter combines two approaches, providing a summary of current knowledge of the area concerned as well as the consequences of that research and suggesting profitable subsequent directions to take. This text investigates and presents the field at a level of depth worthy of something which has had such a pervasive influence on the lives of millions.