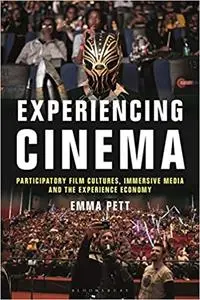 Experiencing Cinema: Participatory Film Cultures, Immersive Media and the Experience Economy by Emma Pett
English | Feb 25, 2021 | ISBN: 1501352040 | 248 pages | PDF | 1,5 MB
Film is often conceived as a medium that is watched rather than experienced. Existing studies of film audiences, and of media reception more broadly, have revealed the complexity of viewing practices and cultures surrounding cinema-going and its exhibition spaces. Experiencing Cinema offers the first in-depth study of participant engagement with a range of experiential media forms derived from cinema culture. From sing-a-long screenings to theatrical extravaganzas, a broad spectrum of alternative film-going practices and immersive spaces are explored and analysed in this original audience study.
Moving from intimate community gatherings to blockbuster urban venues, from isolated farmhouses to Olympic stadia, Experiencing Cinema considers the lure and value of these popular events. Often attracting a diverse, intergenerational range of participants, from early-adopter urban hipsters to DIY rural communities, the growing demand for participatory cinema within the contemporary marketplace is analysed alongside broader debates circulating around the move away from traditional tiered seating and increased audience mobility and the de-centring of the film text.
My nickname -
interes