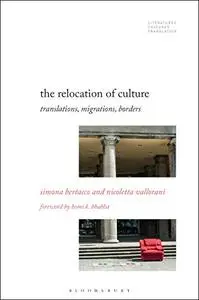 The Relocation of Culture: Translations, Migrations, Borders (Literatures, Cultures, Translation) by Simona Bertacco, Nicoletta Vallorani
2021 | ISBN: 1501365215, 1501365223 | English | 168 pages | PDF | 4 MB
The Relocation of Culture is about accents and borders-about people and cultures that have accents and that cross borders. It is a book that deals with translation and nomadic identities, and with the many ways in which the increasing relevance of forced migrations has affected the practice of languages and the understanding of cultures in our times. Simona Bertacco and Nicoletta Vallorani examine the theoretical and practical nexus of translation and migration, two of the most visible and anxiety-producing keywords of our age, and use translation as the method for a global cultural theory firmly based in the humanities, both as creative output and interdisciplinary scholarship.
Positioning their work within the field of translation studies with important borrowings from literary and cultural studies, visual and migration studies, the authors suggest a theory of translation that makes space for complexity, considers different "languages" (words, images, sounds, bodies), and takes into account both our emotional, pre-linguistic and instinctual reaction to the other as an invader and an enemy and the responsibility for the other that lies at the heart of translation. This process necessarily involves a reflection on the location and relocation of cultures in contemporary times.