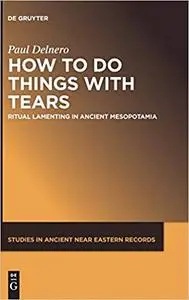 How To Do Things With Tears: Ritual Lamenting in Ancient Mesopotamia (Studies in Ancient Near Eastern Records (SANER) Book 26) by Paul Delnero
English | August 10, 2020 | ISBN: 1501519468 | 661 pages | EPUB | 2 MB
In contrast to other traditions, cultic laments in Mesopotamia were not performed in response to a tragic event, such as a death or a disaster, but instead as a preemptive ritual to avert possible catastrophes. Mesopotamian laments provide a unique insight into the relationship between humankind and the gods, and their study sheds light on the nature of collective rituals within a crosscultural context. Cultic laments were performed in Mesopotamia for nearly 3000 years. This book provides a comprehensive overview of this important ritual practice in the early 2nd millennium BCE, the period during which Sumerian laments were first put in writing. It also includes a new translation and critical edition of Uruamairabi ('That city, which has been plundered'), one of the most widely performed compositions of its genre.