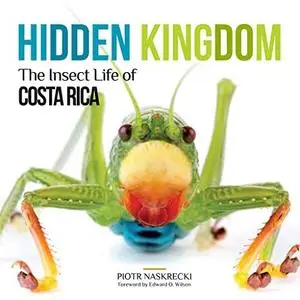 Hidden Kingdom: The Insect Life of Costa Rica (Zona Tropical Publications) by Piotr Naskrecki and Edward O. Wilson
English | Oct 15, 2017 | ISBN: 1501704710 | 216 pages | PDF | 68 MB
Encounter some of the most beautiful creatures in Costa Rica in Piotr Naskrecki's Hidden Kingdom. This book is a visual journey into the world of the insects and their relatives that dominate all terrestrial habitats in Costa Rica through their sheer numbers, biomass, and the ecological functions they perform. Naskrecki's stunning photographs serve as both a tool to help identify the insects that a visitor to Costa Rica is likely to encounter, and as an illustration of their diverse behaviors and ecological roles.
Through high-impact imagery and engaging narrative about insects and their evolutionary history, this book, an ideal companion on a visit to Costa Rica, reinforces or awakens in the readers their innate curiosity about the less appreciated elements of life on Earth. Each section of the book presents fascinating and useful facts about Costa Rica's insects. Naskrecki's photographs show the variety of morphological adaptations, survival strategies, and interlocking roles that insects play in tropical ecosystems.