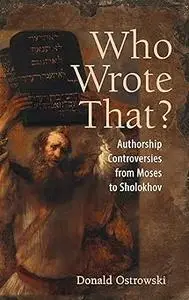 Donald Ostrowski, "Who Wrote That?: Authorship Controversies from Moses to Sholokhov"
English | ISBN: 1501749706 | 2020 | 288 pages | PDF | 7 MB
Who Wrote That? examines nine authorship controversies, providing an introduction to particular disputes and teaching students how to assess historical documents, archival materials, and apocryphal stories, as well as internet sources and news. Donald Ostrowski does not argue in favor of one side over another but focuses on the principles of attribution used to make each case.
Read more