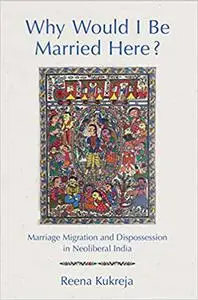 Reena Kukreja, "Why Would I Be Married Here?: Marriage Migration and Dispossession in Neoliberal India"
English | ISBN: 1501762559 | 2022 | 306 pages | PDF | 20 MB
Why Would I Be Married Here? examines marriage migration undertaken by rural bachelors in North India, unable to marry locally, who travel across the breadth of India seeking brides who do not share the same caste, ethnicity, language, or customs as themselves. Combining rich ethnographic evidence with Dalit feminist and political economy frameworks, Reena Kukreja connects the macro-political violent process of neoliberalism to the micro-personal level of marriage and intimate gender relations to analyze the lived reality of this set of migrant brides in cross-region marriages among dominant-peasant caste Hindus and Meo Muslims in rural North India.