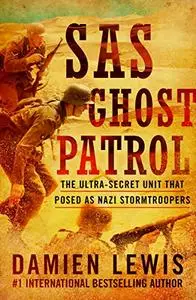 SAS Ghost Patrol: The Ultra-Secret Unit That Posed as Nazi Stormtroopers by Damien Lewis
English | November 20, 2018 | ISBN: 1504055578 | EPUB | 352 pages | 9 MB
An "amazing" account of Britain's most audacious act of subterfuge in WWII: an undercover raid of Rommel's stronghold in Tobruk (The Daily Mirror).
On a scorching September day in 1942, the Special Air Service (SAS), a special forces unit of the British Army, pulled off one of the most daring, top-secret ruses of the Second World War. The plan (sanctioned by Churchill): cover a grueling two thousand miles of the Sahara desert to attack German general Erwin Rommel's seemingly impregnable port fortress in North Africa from the rear to break free and arm more than thirty thousand Allied POWs. Led by Capt. Herbert Buck and posing as Afrika Korps soldiers complete with German uniforms and weaponry, the crew broke into the enemy stronghold Trojan Horse–style as part of the coordinated attack on Tobruk.
"Intensively researched . . . powerfully written," and culled from the private diaries of the do-or-die maverick heroes, this extraordinary story of the sneak attack on the notorious Desert Fox is more thrilling than any fiction. A bold, outrageous, and rule-shattering mission impossible, SAS Ghost Patrol is "one of the great untold stories of WWII" (Bear Grylls).