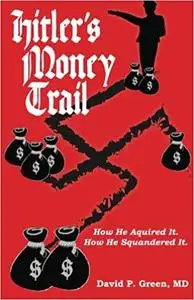 David P. Green MD, "Hitler's Money Trail: How He Acquired It. How He Squandered It."
English | ISBN: 1511661038 | 2015 | 294 pages | EPUB | 1135 KB
It is an undisputed fact that Adolf Hitler radically transformed Germany between the two world wars. Crippled by the draconian provisions of the Treaty of Versailles and struggling to recover from a bankrupt economy, the German people were defeated, demoralized, and broke, searching for some miracle to pull them up from the abyss. Driven by a megalomaniac personality, Hitler gave birth to that miracle by turning Germany into the most powerful nation in Europe in less than a decade. How he accomplished this has been described in hundreds of books and articles. Less attention has been given to how he paid for this dramatic makeover. Where did the money come from? This book addresses that question by delving into the complex combination of money-laundering schemes, extortion, murder, crimes, sleight-of-hand-economics, financial scams, and outright theft that the Nazis used to achieve complete domination of the German nation.