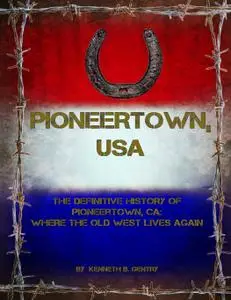 KEnnEth B GEntRY, "Pioneertown, USA: The Definitive History of Pioneertown, CA: Where the Old West Lives Again"
English | ISBN: 1513633112 | 2018 | EPUB | 308 pages | 24 MB
Pioneertown, USA: Where the Old West Lives Again! The first extensive, comprehensive and definitive account of Pioneertown's unique western history. Pioneertown was established in 1946 by the infamous Dick Curtis along with his friends an co-stars, Roy Rogers, Dale Evans, Russell Hayden, Lillian Porter "Mousie" Hayden and The Sons of the Pioneers as a "living breathing movie set" in southern California. They were soon joined by actors, producers and directors like Gene Autry, Philip N. Krasne, Frank McDonald, Spencer Bennet, Rex Blair, Armand Schaefer, John English, John Sturges, George Archainbaud, Duncan Renaldo, Leo Carrillo, Minna Gombelle, Pat Buttram, Smiley Burnette, Gail Davis, Frank Richards, Gloria Henry, Robert Livingston, Jack O'Mahoney, Barbara Stanwyck, Barry Sullivan, Ralph Meeker, Peggy Stewart, Dickie Moore, William Fawcett, Kirby Grant, James Griffith, Lew Ayres, Teresa Wright, Thurston Hall, Harry Lauter, Anne James and many, many more. Over the 7o+ years of Pioneertown's history, many stories of the High Desert town have been lost, embellished or even misreported. Pioneertown, USA is the result of over a year of thorough research and diligent cataloging to help accurately detail the deep and rich history of this hidden treasure in the Morongo Basin of San Bernardino County, California.