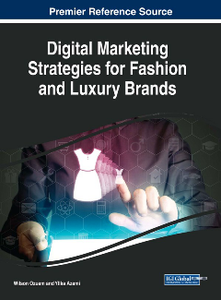 Digital Marketing Strategies for Fashion and Luxury Brands
by Wilson Ozuem and Yllka Azemi
English | 2018 | ISBN: 1522526978 | 484 Pages | PDF | 6.77 MB
Online shopping has become increasingly popular due to its availability and ease. As a result, it is important for companies that sell high-end products to maintain the same marketing success as companies selling more affordable brands in order keep up with the market.
Digital Marketing Strategies for Fashion and Luxury Brands is an essential reference source for the latest scholarly research on the need for a variety of technologies and new techniques in which companies and brand managers can promote higher-end products. Featuring coverage on a broad range of topics and perspectives such as brand communication, mobile commerce, and multichannel retailing, this publication is ideally designed for managers, academicians, and researchers seeking current material on effectively promoting more expensive merchandise using technology.
If you want to support my blog, then you can buy a premium account through any of my files (i.e. on the download page of my book). In this case, I get a percent of sale and can continue to delight you with new books!