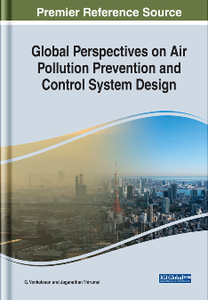 Global Perspectives on Air Pollution Prevention and Control System Design
by G. Venkatesan and Jaganthan Thirumal
English | 2019 | ISBN: 1522572899 | 362 Pages | PDF | 21 MB
Once pollutants are released into the atmosphere, they cannot be removed easily nor can the reaction with atmospheric constituents be ceased. However, through enhancing our understanding of control technology, further addition of pollution can be forestalled. Through better understanding of innovations in the field of air pollutant control technology and modelling, better cost-effective control equipment can be designed to achieve a clean biosphere for sustainable life in the near future.
Global Perspectives on Air Pollution Prevention and Control System Design is a pivotal reference source that provides vital research on the understanding of the basic concepts of air pollution, modeling concepts, development of various models for source-specific pollutants, and dispersion. While highlighting topics such as climate change, fossil fuels, and motor vehicle emissions, this publication explores the links between the global impact on climate change and modeling concepts of indoor air pollutants. This book is ideally designed for professors, students, researchers, environmental agencies, environmentalists, policymakers, and government officials, seeking current research on future solutions in critical fields of air pollution.
If you want to support my blog, then you can buy a premium account through any of my files (i.e. on the download page of my book). In this case, I get a percent of sale and can continue to delight you with new books!