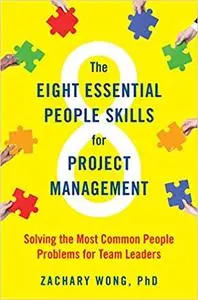 Zachary Wong, "The Eight Essential People Skills for Project Management: Solving the Most Common People Problems for Team Leaders"
ISBN: 1523097930 | 2018 | EPUB | 216 pages | 5 MB
Veteran project manager and University of California professor Zachary Wong identifies the eight most common people problems in managing projects and offers a flexible, customizable approach to solving them, based on a lifetime of research.
Zachary Wong offers practical strategies, skills, and tools to help project managers diagnose and solve their toughest people problems. Based on decades in the trenches, the book shows how to confront and correct bad behavior, increase team performance and inclusion, turn around difficult people and poor performers, get people to do what you want them to do, boost employee motivation and attitude, reduce change resistance and risk aversion, and manage difficult bosses.
Wong believes that the best team leaders are problem-solvers and facilitators, so this book provides problem-solving models and tools to diagnose people problems, and facilitative methods, processes, and techniques to correct them. It's an approach that can be personalized to fit any person or situation. Each skill is explained with a well-balanced mix of case stories, examples, strategies, processes, tools, and techniques along with illustrations, graphics, tables, and other visuals to clarify key concepts and their workplace application. To reinforce the most important learnings, Wong includes a "Memory Card" and "Skill Summary" at the end of each chapter.
Nothing is harder than leading people and managing project teams. Being successful takes a combination of knowing human psychology, organizational behaviors, and human factors; having supervisory, process, and communication skills; ensuring good teamwork, high integrity, and strong leadership; and having the ability to integrate and apply these skills to a diverse work team. The Eight Essential People Skills for Project Management is designed for individuals, team leaders, and managers who oversee and coordinate the daily performance of others and who are seeking solutions that they can apply immediately.