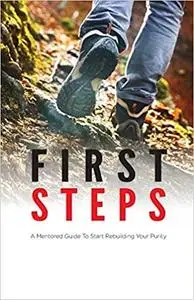 First Steps: A Mentored Guide To Start Rebuilding Your Purity (Mentor Manual Series) by Blake Williams, John Fort, Vince Corbin, David Burleson, Christina Chang
English | February 1, 2016 | ISBN: 1523821795 | 146 pages | AZW3 | 1.27 Mb
"First Steps: A Mentored Guide to Start Rebuilding Your Purity" is the first in a series of three mentored guides for men on the journey toward living a sexually pure life. While an individual can work through this material without a mentor a core purpose essential to this manual is connection, accountability and breaking the silence. This is best done when a man further down the road works arm-in-arm with a man just beginning his focus on purity. In hopes that this manual becomes a lasting resource, we have included some helpful indicators in each of the lessons. Several QR codes are included to allow you to view short relevant videos. You will find assignments purposefully scattered throughout the manual. You may be tempted to skip the assignments, or at least make a halfhearted attempt to complete them. No one will be grading your assignments—this is not a classroom, it is real life—but know that you will only get out of this manual what you put into it. Determine now to take the time and invest the effort the assignments require. We know you will be glad you did.The best resource God offers you through this manual is your mentor. He will share much of himself with you over the coming weeks. Trust him. He is further down the road than you are and has great insight into the journey. The apostle Paul said, "Join in imitating me, brothers, and observe those who live according to the example you have in us" (Philippians 3:17). Keep this in mind as you talk with your mentor!