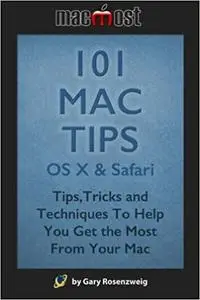 Gary Rosenzweig, "101 Mac Tips: OS X & Safari: Tips, Tricks and Techniques To Help You Get the Most From Your Mac"
English | ISBN: 1523825162 | 2016 | 140 pages | AZW3, EPUB | 11 MB + 5 MB
Know Mac basics but want to learn how to work faster and more efficiently on your Mac? Learn some of the best Mac tips for working with files and folders, customizing your Mac, browsing the web, using the handy Preview app, and working with documents and windows. 101 Mac Tips: OS X & Safari is a book from MacMost host and producer Gary Rosenzweig. Learn some of his best Mac tips, tricks and techniques from 30 years of experience.