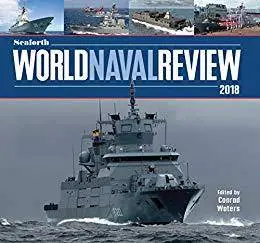 Seaforth World Naval Review: 2018 by Conrad Waters
English | 20 Nov. 2017 | ISBN: 1526720094 | 192 Pages | EPUB | 23.81 MB
Now firmly established as an authoritative but affordable summary of all that has happened in the naval world in the previous twelve months, this annual combines regional surveys with one-off major articles on noteworthy new ships and other important developments. Besides the latest warship projects, it also looks at wider issues of importance to navies, such as aviation and weaponry, and calls on expertise from around the globe to give a balanced picture of what is going on and to interpret its significance.
Features of this edition include an analysis of the Republic of Korea Navy and the response to its aggressive northern neighbour. Significant Ships will cover the USN's revamped Arleigh Burke class destroyer design, German F125 class frigates, and the RNZN's Otago class offshore patrol vessels. There are also technological reviews dealing with naval aviation by David Hobbs, RN missile programmes by Richard Scott, while Norman Friedman turns his attention to new generation weapons technology.
The World Naval Review is intended to make interesting reading as well as providing authoritative reference, so there is a strong visual emphasis, including specially commissioned drawings and the most up-to-date photographs and artists' impressions. For anyone with an interest in contemporary naval affairs, whether an enthusiast or a defence professional, this annual has become required reading.