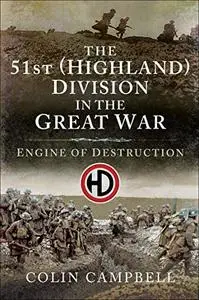 The 51st (Highland) Division in the Great War: Engine of Destruction by Colin Campbell
2019 | ISBN: 1526747030 | English | 320 pages | EPUB | 9 MB
Scotland provided two Territorial Force divisions at the outbreak of the First World War, in due course taking their place in the order of battle as the 51st (Highland) Division and the 52nd (Lowland) Division. 1066 and All That concluded that the war was won by the Americans, assisted by the Australians (AZTECS) and some Canadians, and 51 Highlanders. If nothing else, this ironic analysis showed that Major General George (Uncle, sometimes Daddy) Harper was a master of positive publicity and knew its value in building the Divisions image and morale. He commanded the Division from late September 1915 until shortly before the opening of the German Spring Offensive in March 1918, when he was promoted to the command of IV Corps; his name is firmly linked to the 51st.The Division arrived in France in May 1915 and took part in a limited (and unsuccessful) attack in French Flanders in June 1915, which revealed hardly surprising weaknesses in training. The next year was spent relatively quietly on the Somme and, from March 1916, the southern end of Vimy Ridge. Thereafter it fought on the Somme at High Wood and Beaumont-Hamel, at the Battle of Arras, at Third Ypres, Cambrai, faced two of the German spring offensives of 1918 and was then involved in the successful series of allied offensives that ended the war, in the Divisions case starting with an attack with the French and the Italians in the Champagne in July 1918.No history of the Division has been written since Brewshers in 1921. This book aims to cast a more objective light on its activities and to challenge its post war critics. It makes full use of official records and first hand accounts, including those provided by descendants with previously unpublished family records or illustrations. The books main purpose is to pay tribute to a generation that met hitherto unimagined horrors with fortitude, adaptability, resilience and humour and, despite the awful price in lives, broken bodies and minds, carried on until the job was done.