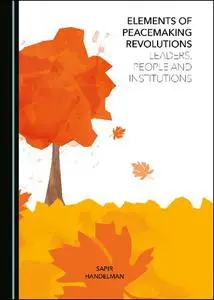 Elements of Peacemaking Revolutions by Sapir Handelman
English | October 1, 2021 | ISBN: 1527572080 | 140 pages | PDF | 1 MB
Intractable conflict is a protracted, violent and long-time struggle, wherein generation after generation is socially conditioned to continue fighting. To break the chain of destruction, a revolutionary peacemaking process is required. This book serves as an introduction to the study of peacemaking revolutions, which are necessary to build a peaceful and well-functioning society in desperate intractable conflict situations. The challenge of peacemaking revolution is to turn opposing parties into a peacemaking community. A peacemaking community offers political platforms to involve the different societal elements of the opposing parties in the struggle for change. It offers a consensus-building process that approaches the conflict from different sides, dimensions and directions. This book provides a fresh perspective to the study of destructive social conflicts, their transformation, and resolution. It will serve to provoke a critical discussion among those who are interested in the new emerging study of peacemaking revolutions.
My nickname -
interes