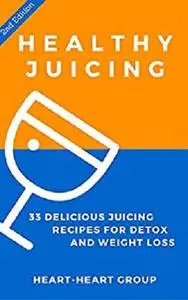 Juicing: Healthy Juicing: 33 Delicious Juicing Recipes For Detox and Weight Loss (Dairy Free, Gluten Free, Low Cholesterol, Vegan Diet, Vegan Juicing Recipes, Healthy eating, Smoothies Book 1) by Heart-Heart Group
English | January 21, 2016 | ISBN: 153040844X | 76 pages | AZW3 | 0.35 MB
<h1>Make your Weight-Loss journey more refreshing NOW!</h1>
<h2>Read this book for FREE on Kindle Unlimited - Download now you will also get a BONUS book on how to lose weight naturally!</h2><h2>
We all know that
fruits and vegetables are an essential part of our weight-loss journey
, but the truth is there will always be some vegetables or fruits that you don't like. In addition, sometime those fruits or vegetables that we dislike are often the ones that contains the most useful nutrients.
But, here is my favorite saying
"if you don't like it, juice it"
Delicious recipes are cool, but what's better is having a nice refreshing drink along with your healthy meal. In this book, you will be introduce to 33 different refreshing juicing recipes that can be incorporate into your healthy lifestyle and to further assist you on your healthy journey I have included the
nutritional values of each recipe.
With these information you will have a far clear idea of what you are consuming.
Lastly, as a writer the part I enjoy the most when putting this together is naming my recipes. Behold, because this book will have some of the
coolest name that you have yet to see in a recipe book.
Download now and allow my recipes to refresh your day and give you a good laugh when you are telling your friends the name of your drink so everyone can
LOL.
</h2>