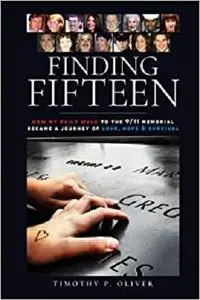 Finding Fifteen: How my daily walk to the 9/11 Memorial became a journey of love, hope and survival by Timothy P. Oliver
English | ISBN: 1535595388 | 320 pages | EPUB | August 15, 2016 | 10 Mb
This year, nearly four million Americans will be born, the latest of more than 80 million who have no memory of September 11th, 2001—the largest single terrorist attack in the history of the United States. In FINDING FIFTEEN, Timothy P. Oliver takes the reader on a six-month journey to locate families, friends and colleagues of 15 victims of that tragic day 15 years later. Each name was randomly selected during Oliver's daily walk through lower Manhattan. The 9/11 Memorial pools, engraved with nearly 3,000 names, sit outside his office at the new World Trade Center building—the shining symbol of a city and country determined to fight back against violent, radical jihadists. In more than 55 exclusive interviews from around the nation, FINDING FIFTEEN honors the lives–-and relives the final moments–of 15 innocent Americans caught up in the attacks on New York City, Washington D.C., and in the skies over rural Pennsylvania.