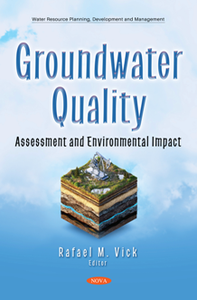 Groundwater Quality : Assessment and Environmental Impact
by Rafael M. Vick
English | 2021 | ISBN: 1536188077 | 148 Pages | True PDF | 11.3 MB
Groundwater Quality: Assessment and Environmental Impact first discusses arsenic contamination in groundwater, which has emerged as a major health hazard in India. The authors review a generalized scenario of groundwater in the Greater Dhaka Area, focusing on the deterioration of groundwater quality over the years and its impact on the environment. Following this, the chemical composition of rainwater and groundwater from the Mount Cameroon area in May-July 2017 is analyzed, and the impact of water-rock interactions on groundwater chemistry is assessed. The concluding study aims to assess the extent of exposure to fluoride in inhabitants of Raebareli district in Uttar Pradesh, India, generating baseline data about the fluoride-contaminated area.
If you want to support my blog, then you can buy a premium account through any of my files (i.e. on the download page of my book). In this case, I get a percent of sale and can continue to delight you with new books!