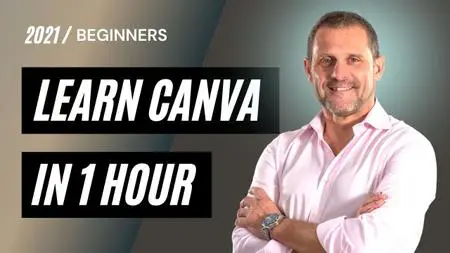 Canva 2021. Learn Canva, from Zero to Hero in 1 Hour.
Duration: 1h 15m | .MP4 1280x720, 30 fps(r) | AAC, 48000 Hz, 2ch | 811 MB
Genre: eLearning | Language: English
In this new Canva course I'll help you learn how to use Canva quickly in a hands on course that will have you producing your own Canva Graphic Designs and Videos in just one hour (and a bit).
You don't need any past design experience or Canva experience and every lesson uses Canvas Free Version so there are no subscriptions to pay.
In one hour you can pick up lifetime skills allowing you to produce all of your own Design Work quickly and easily and more importantly….. its Fun to do!!!
Who is this Class For?
Total Beginners new to Graphic Design and Canva.
People with some experience that want to learn more.
Experienced Canva designers who want to refresh their memories on some topics.
We've designed the course to be respectful of your time!
Each lesson has been edited to remove needless gaps and content that would waste your time.
This means that some of the instructions move along briskly
Don't worry, the course is designed this way to allow faster students to follow along in real time and the rest of us to pause the videos at intervals to do our own work and then keep watching.
In several spots we give you specific written instructions on the screen and then ask you to pause the video whilst you follow those instructions.
I hope this approach allows you to make the best use of your time and helps you learn Canva as quickly as possible.
What will you learn?
How to use Layers to create complex designs using shapes and images.
How to edit and enhance photographs in Canva.
How to work with Canva Templates to create your own Designs.
How to add light and shadows to Graphic Designs.
How to use Masks and Gradients in Canva.
How to add Animations to your Designs.
How to edit Videos in Canva and add music and audio.
How to save time using Canva's preset Font, Colour and pre-designed Text Options.
How to 'Iterate' through multiple small changes to a finished design to arrive at the 'Perfect' design piece.
More Info