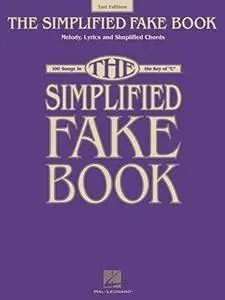 Simplified Fake Book: 100 Songs in the Key of "C", 2nd Edition by Editors of Hal Leonard
English | November 1, 2019 | ISBN: 1540060470 | EPUB | 208 pages | 52.75 MB
(Easy Fake Book). The sequel to Your First Fake Book and The Easy Fake Book , this new second edition includes 100 favorite songs all in the key of C, complete with lyrics and simplified chords that remain true to each tune. It also features convenient stay-open binding, introductions to make the arrangements sound more polished, and large, easy-to-read music notation that beginning or older players will love!
The songs come from all musical genres standards, rock, Broadway and the movies, love songs and more and include: Autumn Leaves * Bad, Bad Leroy Brown * Besame Mucho (Kiss Me Much) * Beyond the Sea * Candle in the Wind * City of Stars * Dancing Queen * Fever * Hallelujah * Heart and Soul * I Dreamed a Dream * Longer * Moon River * Old Time Rock & Roll * Over the Rainbow * Piano Man * Shallow * Take Me Home, Country Roads * Tomorrow * What a Wonderful World * When She Loved Me * Wonderful Tonight * Yellow Submarine * You Are My Sunshine * You've Got a Friend * Your Song * and more.